Description
FinOak Pre-finished
1860 x 190 x 14/3mm
Available in any of the sizes and finishes listed above:
Technical Information
FSC® Certification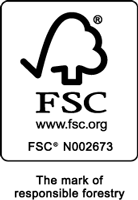 We choose to support suppliers that respect the environment, as well as the animals and people living there which is why we insist on FSC® certified products. We work diligently with all of our suppliers to minimize our environmental impact.
The veneer uses less of the precious species and therefore does not impact negatively on the environment. You can now get the genuine wood experience, without harming natural forests. Our flooring is totally biodegradable, and its low emission value promises a greener future for you and our future generations.